[wowslider id="54"]

As an EASTER gift to you!  Here is a Sacrament (Church) meeting program which you may use.  Feel free to share and adapt.
As a Christmas gift to you!  These are Sacrament Meeting Programs which you may use for your Christmas program.  Feel free to share and adapt to your needs.
Classic Christmas program (06)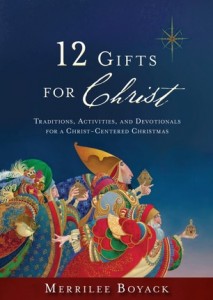 -
12 Gifts for Christ
Order it today!
Christmas is a time for celebrating the birth of Christ and a time for giving. In the middle of this busy season, it is easy to forget the very reason why we celebrate. The first Christmas began with gifts of light and gold. This Christmas, ask: What gifts can I give to Him?
In 12 Gifts for Christ, author Merrilee Boyack suggests ways we can give to the Savior, including having gratitude, sharing through service, and loving others. With examples of these gifts shared through personal stories, scriptures, activities, and family home evening lessons, she suggests presenting those gifts to Christ in letters placed in stockings or brightly wrapped boxes. Following the ideas of this book will truly add joy to the spirit in our hearts and homes during Christmas!
Many of you have been asking for the Community Service Ideas list — here it is!! Enjoy!