You could say that Merrilee Boyack's speaking career began in 1976 when she was a freshman in college.  She happened to be walking by a speaker doing a presentation at Brigham Young University and sat in the back for a few minutes.  The speaker taught the "Act As If" principle and Merrilee's life was transformed in an instant.
"I cannot begin to tell you how profound a change that was in my life.  Suddenly I got it. Suddenly all things were possible.  I finally saw that I could become who I wanted to become."  Having been a very shy child who suffered greatly with deep-seated insecurities, Merrilee knew that her voice was inside.  "I had always admired speakers as I was growing up.  I knew that my life had been changed on many occasions by the words of a speaker and I longed to share that gift with others."
A few years later, Merrilee's opportunity came.  She was asked to give a presentation to a group of young adults and she spoke passionately on overcoming fear.  That was the point where Merrilee's speaking career was launched.
Since then, Merrilee has gone on to speak to hundreds of thousands throughout the world.  "When I am in front of a group of people, I feel like I am fulfilling my mission in life.  The opportunity to influence and change the lives of others is both humbling and thrilling. "
Merrilee's style is one of humor and inspiration that is both real and practical.  She is a master storyteller who will have her audience laughing one moment and weeping the next.  She is a very popular presenter at Brigham Young University's Education Week and tours with Time Out for Women.  She speaks to all kinds of groups from youth to adults and is comfortable in a corporate setting as well as the community or church.
Merrilee has truly found her voice, and her voice inspires and motivates all who hear it.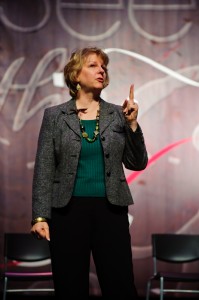 To inquire about Merrilee coming to speak to your group, send her an email directly to maboyack@gmail.com.    Merrilee is also available to do Zoom or Skype p
resentations.
Here is a list of presentations Merrilee has previously given.  She is very willing to develop new presentations upon request.
Click here for Merrilee's bio: